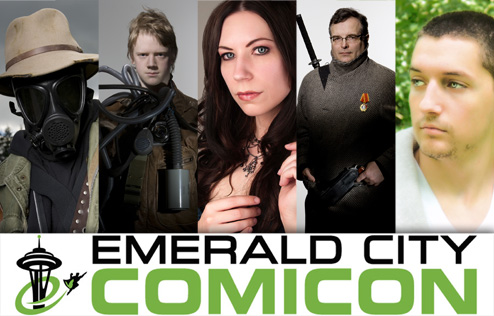 The Emerald City Comicon is the Premier Comic Book & Pop Culture Convention in the Pacific Northwest, and the perfect place for Spiral Productions to debut key products from the Project London Universe and feature appearances by the director, actors and book authors. The ECCC is being held at the Washington State Convention Center, Seattle, WA U.S.A.,  March 4-6, 2011. Visit our display in the Artist Alley (table H-22).
Fans at the ECCC will have access to exclusive premiere editions of two new books, Project Manhattan (prequel novella) and the Project London Graphic Novel. Plus a chance to meet some of the people bringing Project London to life including (from top left to right):
Spiral Productions will also be showing a brand new trailer for Project London at the ECCC, hoping to raise awareness of the movie among the expected 22,000+ attendees.
Project London (movie) short synopsis: Project London is a special effects-rich science fiction movie about a grief-stricken young man who joins a ragtag resistance force and engages in epic battles against Joint Command to avenge his father and save the planet.
Project Manhattan (prequel novella) short synopsis: An orphaned and powerful alien race arrive on planet earth during the chaos of World War II with a proposition that brings peace in exchange for a place to live. Dealing with a sinister secret with the power to decimate the planet is the thrust of this prequel to the upcoming movie, Project London.