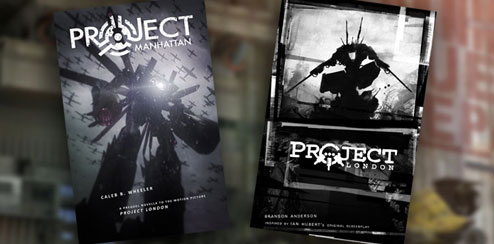 Spiral Productions LLC has released two brilliant literary, artistic works in support of their upcoming, independent, almost-no-budget feature film, Project London.
Now available, two novels from the movie's official website, the prequel novella, Project Manhattan, is the first installment of the story that culminates in Project London. A graphic novel of Project London, based on the movie's screenplay, presents a much darker exploration of the epic story and realigns it into a completely new, visual experience for the printed page.
The two new books debuted at the 2011 Emerald City Comicon in March, where the supplies of each book sold out at full price, with minimal promotion, to both existing and new fans of Project London from around the world. Showing its support for the movie's growing fan base, Spiral Productions has made digital previews of the two books available for free on the Project London website, including the first 15 pages of Project Manhattan and 61 pages (nearly half) of the graphic novel.
Both Project Manhattan and the Project London graphic novel are now available for media reviews. The next steps for the books include feature trailers soon available on YouTube, the release of digital (both) and audio (Project Manhattan) versions, and global distribution via Amazon.com and Barnes & Noble.
About Project Manhattan:
Authored by writer Caleb B. Wheeler, the Project Manhattan prequel novella is the first installment of the story that culminates in the Project London film. A 15-page preview is currently available for everyone on the Project London website. The book's story is set World War II, when an orphaned alien race comes to Earth offering advanced, power-shifting technologies to the side they believe will win the war… in exchange for a place to live. The ominous, catastrophic devastation it creates during the war leads to the development of even more powerful, mind-boggling weapons. Many began questioning the motives of these visitors, including some of the aliens themselves. But the real question is where did they come from? And what happened to their home world?
"Project Manhattan is full of imagination and fascinating details," said Project London Writer/Director Ian Hubert. "Wheeler has created a believable alternate look at one of humanity's darkest moments, with a vivid piece of work that stands on its own as a fantastic piece of fiction."
About the Project London Graphic Novel:
Artist Branson Anderson created the Project London graphic novel based on Hubert's screenplay for Project London. Branson was given freedom and license by Hubert and Executive Producers Phil and Nathan McCoy to realign the Project London story into a completely new experience for the printed page. Starting today, a 61-page preview is now available on the Project London website.
"I love that the Project London graphic novel is not a scene-for-scene replay of the movie," Project London Executive Producer Nathan McCoy said. "As a graphic novel fan, I don't find much use for books that are frame-by-frame visualizations of a movie. Branson's novel will be familiar and yet different and very fun."